Sonny Cunha Tiler, Composer, Politician
Sonny Cunha Tiler, Composer, Politician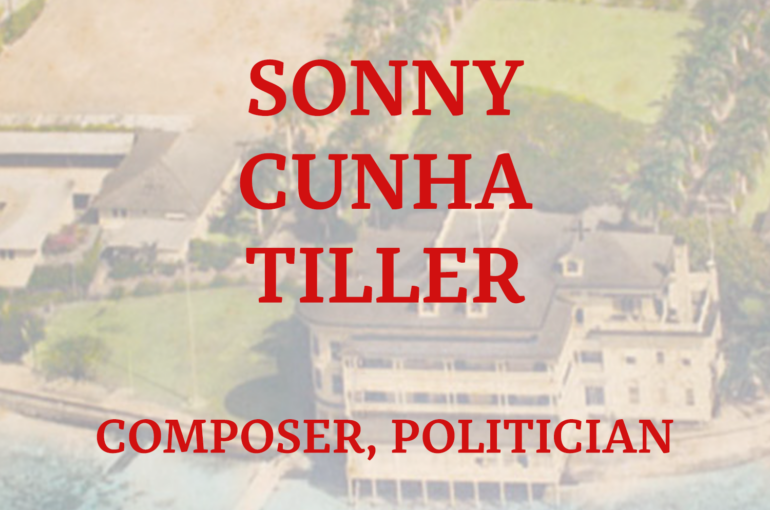 Albert Richard "Sonny" Cunha, (1879-1933) served as 616's first Tiler. We don't know much about how Cunha performed his duties as Tiler, but we do know he performed – as a musician and composer.
Born in Honolulu, Cunha attended first St. Louis College, Oahu College in 1897 (Punahou), and later St. Mary's College, California. He earned a Yale Law School degree around 1904. At Yale, Cunha excelled at baseball and football, also competing in tennis and swimming. One story boasted that he held the record for the hardest hit, longest home run in a Yale-Princeton game. Observers described Cunha as 'lively as a cricket' in running bases despite his 300 pounds.
Although he set up a law office, he gave it up within the year. Instead of listening to clients, Sonny was listening to music. He played the piano, arranged, and composed music. He wrote Waikiki Mermaid, 1903, My Honolulu Tomboy, 1905, and My Hapa Haole Hula Girl, 1909.
Cunha led orchestras at the Savoy and Park theaters (both near Fort St.) and toured the mainland for two years with his own band. He worked first for Bergstrom Music Co. ("Victor Talking Machines sold"). He was Treasurer of the Honolulu Concert & Lyceum Bureau. Later he formed Honolulu Music Co. ("sheet music, Victor records, and Autopianos").
His arrangements "for voice and piano" made the music accessible to mainland audiences unfamiliar with island instruments. Songs like his My Tropical Hula Girl helped sparked a national Hawaiian music craze. At home he influenced composers like Johnny Noble. In 1918, Noble joined Cunha's band as a drummer and xylophone player. They became friends and collaborated on songs like Hula Blues. Noble wrote that Sonny "changed the tempo and style of Hawaiian music." Sonny Cunha became the accepted father of Hapa-Haole songs and was honored in the 1996 Hawaiian Music Hall of Fame.
Sonny's piano playing was never recorded, but he appeared in "Poi or Bust," a Honolulu film comedy. Described by Johnny Noble as having "a fund of bubbling humor," Cunha played the story's "outstanding character." No copy of the film exits.
After his father's death in 1922, Sonny managed the large E. S. Cunha Estate property. A. R. Cunha lived his entire life at the family home on Kalakaua Avenue (near Hawaiian Regent and Hawaiian Waikiki Beach hotels).
Cunha was active in the Republican Party. Emphasis on active. It is said that he once announced his candidacy by throwing his hat in the ring, literally. And that was after lighting a string of firecrackers serving as a hatband! Now that shoulda gotten the voters' attention, don't ya think?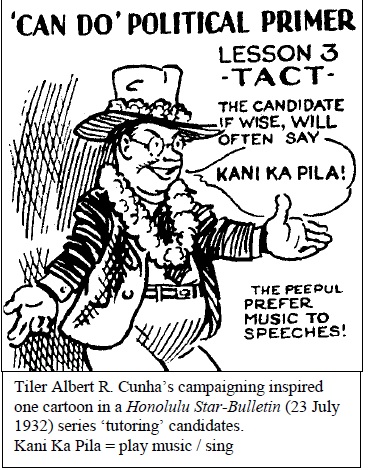 A. R. Cunha served as a 1923-24 territorial representative and on the 1924-27 Honolulu Board of Supervisors (City Council). In 1932, Cunha made a primary bid to return as a representative. It was a heady time in Hawai'i politics. Candidates' names now label streets, parks, schools and public buildings: Lincoln McCandless vs. Victor Houston for Delegate to Congress; John Wilson and George Wright battled for Mayor; Ernest Heen, Samuel W. King, and future Mayor Crane ran for Board of Supervisors; Alva A. Scott, David Trask, Eben Low, William Borthwick, Sonny Gay, Roy Vitousek, future ER (1934-35) Mark Huckestein (Democrat) and others ran for legislative seats. Now forbidden, but then legal, campaigning at polling places included groups singing candidates' praises, workers handing out candidate name cards, and "trucks speeding from booth to booth flaunting the banners of candidates and carrying voters to their respective polling places."
A dissident Republican, Cunha quipped at a candidates' forum that sitting legislators were "merely tools of the Repub – merely tools of the bosses." His humor and song are reflected in a Cunha inspired newspaper cartoon.
Election night results were tallied at public rallies sponsored by rival newspapers, Honolulu Advertiser and Star-Bulletin, attended by thousands, and broadcast over radio. Placing 9th in a pack of 11, Cunha's political career ended.
Sonny could not know that his life was also ending. Still, entertainer Cunha exited at a theatrical moment:
World: Germany elects Hitler Chancellor; Japan threatens to exit the League of Nations; Gandhi on hunger strike against British rule in India
U.S. : depression clutches economy, F. D. Roosevelt becomes President
Hawai'i: Democrats and unions step up organizing, children enjoy Hawaii Theater's Mickey Mouse Club meetings and color Sunday comics, and Elks 616 Milk Fund provides nourishment in schools.
Anita Manning, Lodge Historian
References:
Honolulu Advertiser 15 Sept 1932; 24 Jan 1933; 25 Jan 1933
Kanahele, G. S., Ed. 1979. Hawaiian Music and Musicians, U H Press
Noble, J. "Hawaiian Musicians in the Jazz Era," Paradise of the Pacific. Nov 1943 (11:22-24)
Polk-Husted. 1902-1925. City Directory.
Star-Bulletin 23 July 1932; 28 Sept 1932; 1 & 3 Oct 1932; 23 Jan 1933; 24 Jan 1933
Thrum, T. G. 1905. Hawaiian Almanac and Annual.
Todaro, T. 1974. Tony Todaro presents: the golden years of Hawaiian Music.