616 Elks – 80 Years Ago, January 1942
616 Elks – 80 Years Ago, January 1942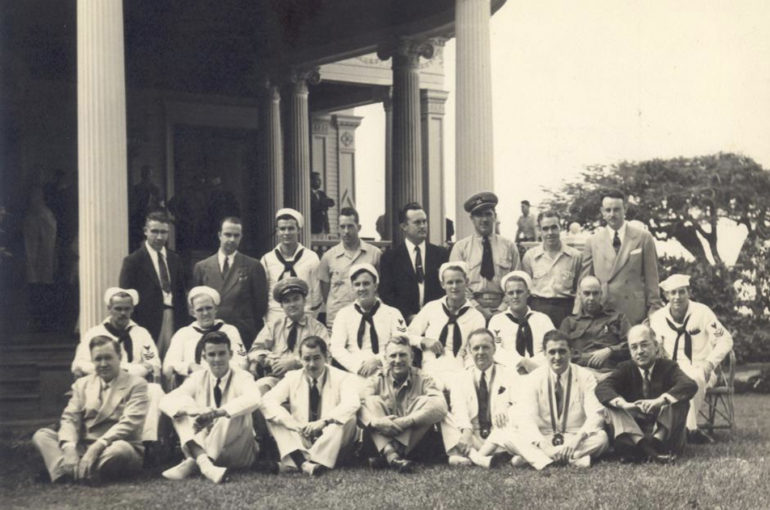 Lodge officers (front row) and new members January 11, 1942, on lawn of 616.
Names of the military members are not known. Please contact us if you recognize someone.
The Dec 7, 1941, attack caused chaos in Honolulu. 616 knew Elks had been in battles at Pearl Harbor, Schofield, Wheeler, and Hickam Fields, but nothing more. News of casualties / damage might inform the enemy and was cut off Dec 12 by news / mail censorship under Martial Law. With civilian meetings restricted by Martial Law blackout and curfew, 616 finally met again, January 11, 1942, with Lodge meetings moved to weekend afternoons. The Elks dining room stayed closed until Oct.
January 11, Dec 7th survivors Eugene R Blalock (Wheeler Field), A L Blevins (California B44), William M Sorrells (Dobbin AD3), Norman L Stenger (Naval Air Station Pearl Harbor), Harold R Waldrop (Vireo AM52), and William E Willis (Barton DD599) were initiated and Raymond G Wonders, Navy Quartermaster, was reinstated as members.
Elks 616 faced a crisis as bar inventory shrank. After initial martial law liquor prohibition was lifted a practical problem – bottles. Incoming freight needed military priority; empty liquor bottles? NOPE. Recycling bottles was both patriotic and vital to keep our Elks bar stocked. Bottlers ran blunt ads – return bottles or no new beer.
Within hours of the bombing, cross-Pacific commercial shipping stopped. No mail in or out. Elks 616 couldn't exchange with Grand Lodge nor Elk families with mainland relatives. Finally, Jan 12, 1942, a ship arrived with 38,000 civilian mail sacks, creating a delivery whirlwind.
Gas rationing made it hard for the visiting committee to see sick Elks; members donated their personal ration coupons to help. Members continued for the duration to help members, families and military members across the Pacific.
Anita Manning, 616 Lodge Historian
References:
616 Membership records and Minutes
Honolulu city directories & phone books
www.abmc.gov/search/wwii.php
Advertiser/Star-Bull news morgue, University of Hawaii, Hamilton Library
National Archives World War II Archival Databases
www.familysearch.org