Frank Edward Thompson: First Esquire
Frank Edward Thompson: First Esquire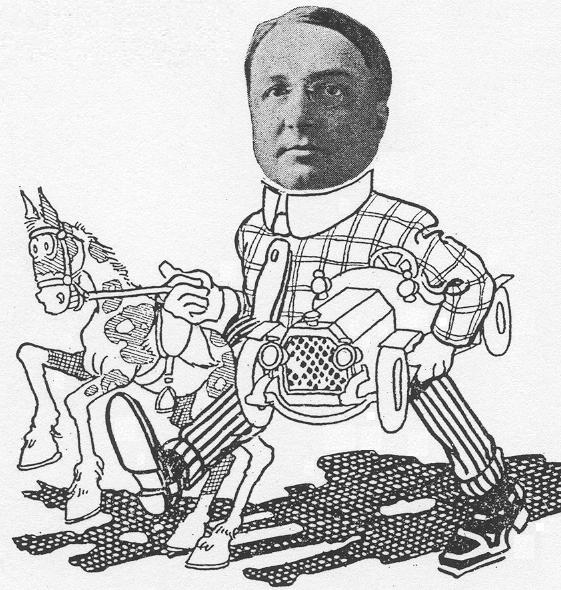 Thompson's bachelor hobbies are displayed in this 1912 cartoon by M. L. Randall, part of a series in a vanity directory of prominent businessmen. Hawaiian Islanders
First Esquire F. E. Thompson's life combined the Elk virtues of Charity, Justice, and Fidelity.
Frank E. Thompson was born Aug. 16, 1875, in Duluth, MN. He arrived in Honolulu in 1900, and married Ella Lewis, daughter of a law partner, in 1903. After her death Thompson and his 5-year-old son lived in an Alexander Young Hotel suite. He enjoyed his bachelorhood (see cartoon), playing polo, driving an open, 4-seater, fire-engine red car while scouting the ladies suitable for marriage. In 1911 he gave up the wild life to marry Alice Roth, sister of William Roth, Matson Lines' manager.
Lawyer Thompson had an entrepreneurial side, being involved in the organization and development of the Kohala Ditch Co., and Lord & Young, a construction firm. Lord, also an Elk, obtained lucrative contracts to dredge Pearl Harbor's entrance and build the Hilo breakwater. As a company director Thompson's influence and advice spread throughout the business community: Isthmian Steamship Lines Co., Royal Hawaiian Hotel, Civic Auditorium, Finance Corp., Consolidated Motors, and Hawaiian Contracting Co. He was part of a real estate group that picked up the pieces after Elk A. V. Gear and his partner ran into financial trouble and needed to unload their Kaimuki subdivision. The same group later developed Wilhelmina Rise.
Charity: A founding Lodge 616 Elk, club and service group affiliations gave important social and economic connections and many chances to express Charity. After serving as 616's first Esquire, Thompson was the third ER (1903-1904), and District Deputy (1915-1916). He twice served as Community Chest fund chair (the forerunner of Aloha United Way). He was on the rosters of the Honolulu Chamber of Commerce, Commercial, and Ad clubs, as well as socially important clubs. He was a Mason (32nd degree), serving as Past Master of Hawaiian Lodge No.21 and on the Board of Shriner Children's Hospital when it leased space in Kauikeolani Hospital (now Kapiolani Hospital).
Justice: 1895-98, Thompson finished his education at Chicago Law College (University of Chicago). After passing the Hawaii bar exam May 1900, Thompson formed a partnership with Judge A. S. Humphreys. Over a long career, he was a member or senior partner in several law firms. Highlights include: 1908 admitted to US Supreme Court bar; specialty in admiralty law; first bankruptcy referee Hawaii US District Court; twice Hawaii Bar Association president. Clients included Castle & Cooke Terminals, American President Lines, New York Life Insurance, among many.
Observers called Thompson brilliant in the courtroom. His ready wit, warm or biting, produced smiles in tense moments. His clients surely appreciated his reported readiness with facts or legal arguments in response to legal adversaries.
Fidelity: F. E. Thompson saw America fight three wars. Enlisting in a Minnesota Army regiment in 1898 during the Spanish-American War, he served to war's end, mustering out as a Sergeant. During World War I, he returned to service as an Army Reserve captain 1914-1917 working with Hawaii's draft board. June 1918, Thompson gave a rousing send off address to Hawaii's Engineer Corps then leaving for France: "weaving the Maile of our pride and the Ilima of our confidence into a lei of love we bid you good bye and Godspeed."
In the 1930s as Germany made war in Europe, America hoped to remain uninvolved by passing the Neutrality Acts. Thompson spoke repeatedly to groups such as Unite America, Chamber of Commerce, and the Committee to Defend America urging repeal of those Acts followed by US support for England. A Nov 1940 "mass meeting" at St. Andrew's Tenny Hall was impressive with 8 bagpipers, the film Evacuation of Dunkirk depicting British retreat from France. The day was the culmination of a funding campaign to buy 6 ambulances for the British effort. He often urged more than supplying British needs. He called for imprisoning those he felt "slandered our government and maligned our president" and statements he considered were a misuse of freedom of speech. May 1941, Thompson spoke on National Maritime Day aboard SS Lurline. He called for modernizing and enlarging civilian docking facilities to ensure delivery of supplies to Hawaii, likening Hawaii's isolation to England's. Thompson pressed the public to support the recently initiated Lend-Lease program allowing US replacement of British ships lost in war to ensure their victory against "a ruthless and Godless totalitarian madman" (Hitler). After America entered the war, the 68 year old Thompson was active in promoting patriotism. He served as Admiralty Prize Commission chair, dealing with German vessels seized at war's start.
Thompson died Mar 24, 1943, without seeing the Allied victory in World War II. Rev. Henry P. Judd officiated at the funeral, held in Thompson's Thurston Avenue home with Elk and former Gov. Joseph Poindexter among the honorary pallbearers. Showing the legal community's respect, Honolulu circuit and district courts adjourned for a day, and the territorial Senate adopted resolutions of condolence.
Anita Manning, Lodge Historian
References:
Advertiser 1917 Apr 7; 1918 Jun 8; 1940 Nov 14; 1943 Mar 25, 26, 28
Dictionary of Amer. Bio., 1943, N Y: Scribner, p 233
Hawaiian Annual for 1910, 1909, p 170
Krauss, R. 2005 May 4 "Our Honolulu," Advertiser
Kuykendall, R. 1928. Hawaii in the World War.
Men of Hawaii, 1930, Hon Star-Bulletin Printing.
Membership Records 616
Mid-Pac. Mag. "F. E. Thompson" 1916, 11(1):174
Minutes & Membership Records 616
Star Bulletin 1940 Nov 15; 1941 Jan 28, Mar 22; 1943 Mar 25