George D. Gear: first Loyal Knight [controversial and unconventional]
George D. Gear: first Loyal Knight [controversial and unconventional]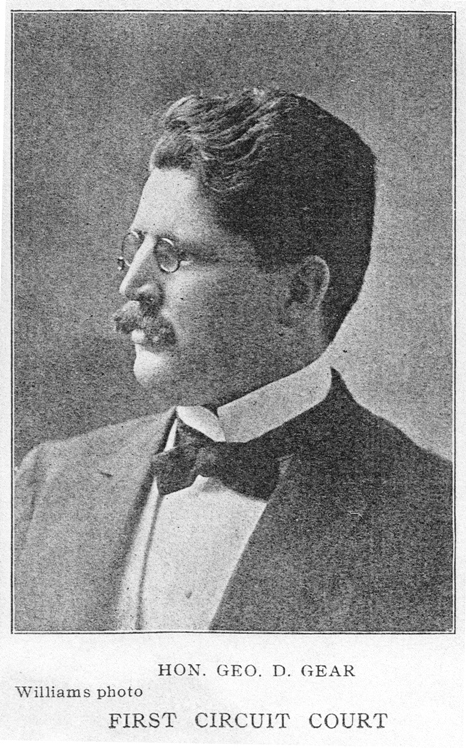 Which judge was a charter member of Honolulu Elks Lodge 616? A judge who released self-confessed criminals or an inventive judge who gave first-time youthful offenders a chance to change? Both!
In 1901, the Hon George D. Gear served as the Lodge's first Loyal Knight and as the Second Judge, 1st Circuit Court, Oahu. Gear, appointed by Pres. William McKinley, served on the bench April 1901-March 1905. Before 1900, Gear arrived in Honolulu from California where he was born, studied law, and started his legal career.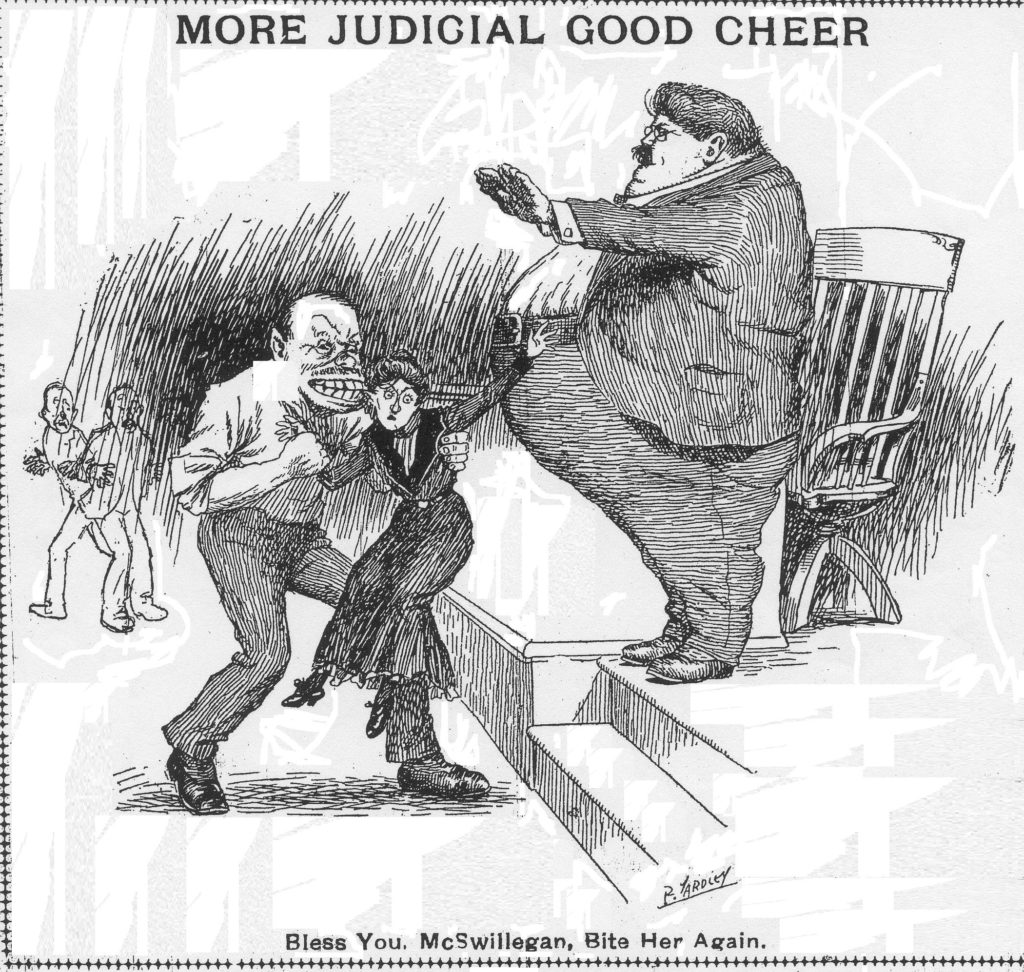 After leaving his judicial position, Gear opened a private legal practice at Kaahumanu Street near Merchant. Gear's career was cut short when he died of blood poisoning at Queen's Hospital, May 12, 1907, at age 39.
Obituaries mention that Gear was a zealous Republican, working hard in campaigns. News columns state he was a member of the Knights of Pythias and the Elks, and his funeral was at the Masonic Temple. None of the obituaries reminded readers that he threw the Pacific Commercial Advertiser (PCA) editor into jail, or his controversial sentencing practices, or legal rulings that had the press screaming.
After Hawaii became a U.S. territory (1898), but prior to the passage of the Organic Act (1900), Hawaii courts continued operating under the laws of the Republic. In felony criminal cases, there were significant differences between U.S. and Republic of Hawaii law governing jury verdicts. During and just after this transition, defendants challenged convictions made under the old rules. In 1901, Gear, believing the U. S. Constitution immediately in force in the territory, ruled for release in habeas corpus requests. The press found much to criticize, using phrases like "felons released by Gear" and "life sentenced prisoners released." Later a Supreme Court decision would over-rule Gear in a precedent setting case (PCA headlined "previously released criminals rearrested").
1902 cases also brought Judge Gear press attention. A March headline roared "More Men Free – 24 Defendants Given Their Liberty." Only on reading the story is it clear prosecutors were unable to proceed that day and defendants were freed under "nolle prosequi" (decline to prosecute), and immediately charged anew.
In March 1902, Judge Gear twice demonstrated his unorthodox sentencing of young offenders. Responding to a guilty plea, Gear suspended a sentence for larceny for a "mere boy." The youngster, given a "severe lecture," was to return to court in May for review.
The next day Gear delivered an unconventional sentence for two boys, age 8 and 12. The PCA headline read "Ordered to be Whipped – Novel Punishment Provided by Gear." After waiting in jail 8 days, the boys pleaded guilty to larceny (theft of $20). Gear released the boys, instructing their mothers to "lick them good," and each boy promised to attend school daily.
Intense press coverage of judges' rulings provided the equivalent of a community soap opera. Daily news reports mixed opinion, commentary, and fact. In early March 1902, apparently unrelated cases brought head-on conflict for the Advertiser and Judge Gear.
Case # 1: Wong S. King, Chinese language newspaper editor, was found guilty of criminal libel against Consul Poon. Judge Gear gave King 30 days in jail. Gear spoke extensively, saying he did not "believe in attacks on public men in the press" and that while "it is true editors are not necessarily of the criminal class," it was necessary that "an example should be made to show the newspapers of this land that they cannot attack people without punishment." Did the Advertiser editor hear a challenge to the freedom of the press?
Case # 2: Moving through the system in March 1902 was the case of William McCarthy, nicknamed by the press as Crimp and at other times as Bill Sikes (the Oliver Twist villain). Crimp, recently released from prison, was arrested for again assaulting his wife, Katie Akai. Trial testimony showed he had lacerated her ear and "other portions of her anatomy with his teeth." Prosecutor E. A. Douthitt (ER 1909-10) charged him with mayhem, requiring proof of permanent disfigurement. The defendant argued surgical repairs were so good, the charge could not be proved. The jury, perhaps attempting to find the lout guilty of something, returned a verdict of attempted mayhem, a nonexistent crime Gear declared. The Advertiser reported that Judge Gear released Crimp "on a technicality."
McCarthy was recharged the next day. The Advertiser was forced to report the court had "difficulty in securing a jury" as possible jurors had "already heard considerable of the case." The same day, PCA ran a cartoon lampooning Gear, suggesting he condoned the assault. Labeling McCarthy's as "McSwillegan" did not protect the Advertiser. Perhaps "swill" referred to McCarthy's defense that liquor was the cause of his actions. Gear cited Advertiser Editor Walter G. Smith for contempt of court for interfering with the trial by prejudicing the jury pool.
The cartoon of 616's first Loyal Knight pitted the Advertiser editor and the courts in a Constitutional battle between Freedom of the Press and Due Process.
Gear turned aside McCarthy's request for dismissal on 'double jeopardy.' A mistrial was declared and a third jury called. Using a defense of "she bit me first," McCarthy was convicted of assault and sentenced to 6 months hard labor. Editor Smith was found guilty of contempt in a trial that saw Elks on both sides of the battle. Sentenced to 30 days, Smith ironically was released on habeas corpus, which he had decried when applied by Gear to others. The conviction was upheld in several appeals. Finally, in June 1902, Smith began serving his sentence only to be pardoned when Gov. S. B. Dole returned to Hawaii 2 days later. The pardon was widely seen as a 'deal'. In stories like "Thurston-Dole Dictatorship," Advertiser rival The Evening Bulletin, said Dole "debased his high office" and "did just what was expected" with "all the arbitrary power placed in his hands."
George Gear resided on Pahoa and Koko Head Avenues, not too far from where brother Albert V. Gear (616 1st year Trustee), was developing house lots and running "Honolulu's Coney Island: Kaimuki Zoological Gardens" – but that's another story.
Anita Manning, 616 Lodge Historian
References:
Evening Bulletin, March and June 1902. Especially Mar 5, 13, 16 and Jun 8, 12, 1902
Membership records, Honolulu Lodge 616, BPOE
Our Flag in the Pacific, Wasp's Quarterly, Nov. 1898, 1:3, ad inside front cover.
Pacific Commercial Advertiser, August 1901, March and June 1902. Especially Aug 27, 1901, Mar 4, 5, 7, 11, 17, Jun 6, 1902. Cartoon reprinted from 12 Mar 1902, page 1, courtesy of The Honolulu Advertiser.
Polk-Husted. 1902-1907. City Directory, annual volumes. Especially 1907, pg. 348
Thrum, T. G. 1888-1911. Hawaiian Almanac and Annual, "Retrospective."
Special thanks – 616 PER and Lodge Secty. T. Yasuda, Judiciary History Center, and Michael Weight, Esq.