The Malini Magic – An Elk Entertains the Troops
The Malini Magic – An Elk Entertains the Troops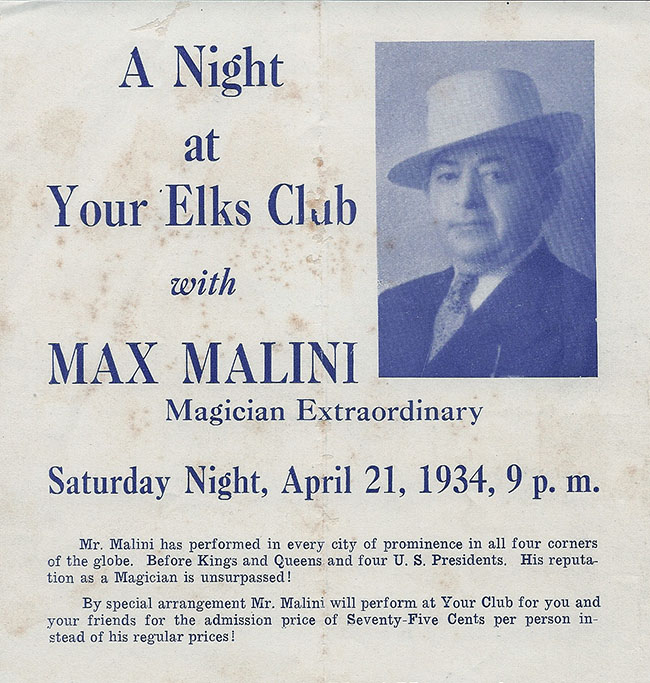 The World's Greatest Magician was born Max Katz Breit in 1871 (or '73 or '75) in Poland. In Max's youth, his family immigrated to New York City where he learned magic and began performing at a very young age. He began his career as a busker – astounding small audiences in hopes of a tip in saloons and other public places. When he started stage performances, he transformed himself into Max Malini, the Napoleon of Magic. He really did "travel the world, playing to the crown heads of Europe" and in the theaters of the great cities of the world.
Max Malini was always selling. Illusions in public to remind everyone there was only one World's Greatest Manipulator. Walk the stalls of Aala market, "making coins appear out of eggs and lemons off the shelf." A talk to Honolulu's Ad Club broadcast on KGMB radio describing recent travels to exotic locations and the attendance at his next performance is up. In performing magic, language doesn't matter. Landing in Yokohama without a 'gig,' he walked the streets, flamboyantly picking up pebbles and flourishingly 'changing' them into $20 gold pieces. He ended up on newspaper front pages and was soon booked. He used this technique often: a short performance in public or with a noteworthy person. News coverage – TaDa – Malini had work.
Malini preferred performances for small audiences, up close where the public thought they could see what was happening. The illusions were more powerful in that setting. Hawaii examples: 1912 a party for Liliuokalani; April 1925 US Congressional delegation examining Hawaii's fitness for statehood (again) AND the US Navy fleet at Pearl Harbor for war games, Max plays the Moana Hotel and private shows like Lodge 616. His son settled in Honolulu in the 1930s and Max began stopping to and from China, Japan, San Francisco, and the Philippines playing the small rooms at the Royal Hawaiian, Alexander Young Hotel, and King Theater. 1941 Max performed again for an Elks meeting. He frequently put on a show for the Honolulu Police Department making news as Chief Gabrielson reported the police "baffled by his mysteries."
65 years-after his last appearance, Max Malini is respected. Modern magicians use many of his illusions – Malini Card Stab, Malini egg bag, and Max Malini's Cups & Balls – to wow watchers. Some of his feats still sound unbelievable: in a café, reach out, grab a handful of those free crackers, crush them in your fist, and reopen your hand to reveal – TaDa – coins!; receive $10 with a distinctive torn corner from an audience member, produce it from inside a lemon – torn corner and all; in a bar, order a beer, place a napkin over the glass, bring your hand down over the glass – your hand slaps the bar – the glass gone, walk to the nearest table to pluck the full glass from a man's jacket. Just how DID he sit through a public dinner party then as dessert concluded – TaDa – remove his hat to reveal a huge block of ice on his head?? Our logical brain tells us a trick distracted us while he …well, he must have done something!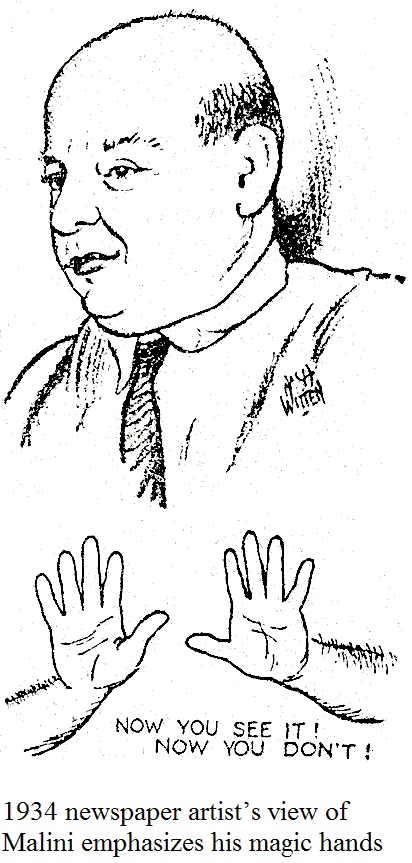 Max gave his skills to help others: shows for children at Honolulu's Shriners' hospital and at children's homes; hearing that a fellow Elk was in financial distress Max offered to do a special show to raise funds for his relief. Newsboys got a show "with sleeves rolled back."
Before Elk Will Rogers took the Honolulu Civic Auditorium stage for an August 1934 fundraiser, newly made Elk and magician Max Malini had amazed the crowd of 4000. Both men were exemplifying the Elk virtues of Charity and Brotherly Love.
In the late 30s and early 40s, Honolulu papers repeatedly announced that Max was giving a 'farewell performance before retiring' followed months later by news that Max was off on another world tour! Max, King of Magic, could never retire. In 1942 despite his fatal illness he performed a great illusion in Honolulu for American soldiers, sailors, and marines – he made the Pacific war disappear for an hour. He was so weak he had to perform seated, but as always dressed impeccably. Although family and friends urged him to rest in bed, and despite needing blood transfusions, Malini went on performing for servicemen in USO shows. The Great Malini passed away Oct. 3, 1942. Charity and Brotherly Love – no better last act before disappearing.
[In 2011, NBC premiered a short-lived mid-season show "The Cape" with a supporting lead character named "Max Malini." The TV Max was a bit shady, but with a good heart, leading a complex crew of sometime circus people, sometime thieves. The lead character is a wrongly accused good guy, given a magical cape by Max. The REAL Max Malini was a 616 Elk (initiated May 18, 1934) and magician whose signature illusions continue to be used by professional magicians.]
Thank you to Elk wife & magician-storyteller Yona Chock for her advice & contacts.
Anita Manning, 616 Lodge Historian
References:
616 Minutes 1925, 1934, 1941, 1942
Advertiser 1934 07 31, 08 2-3, 19; 1942 10 04
Hawaii Newspaper Agency clippings morgue
Star Bulletin 1934 07 31, 08 1-3; 1942 10 05
www.cardmsg.com/magicians/max-malini
www.illusiongenius.com/9-2003
www.komikerklubben.se/malini
www.magicwebchannel.com/hall_malini
Waters, T.A . 1988. The encyclopedia of magic and magicians. NY 372pp